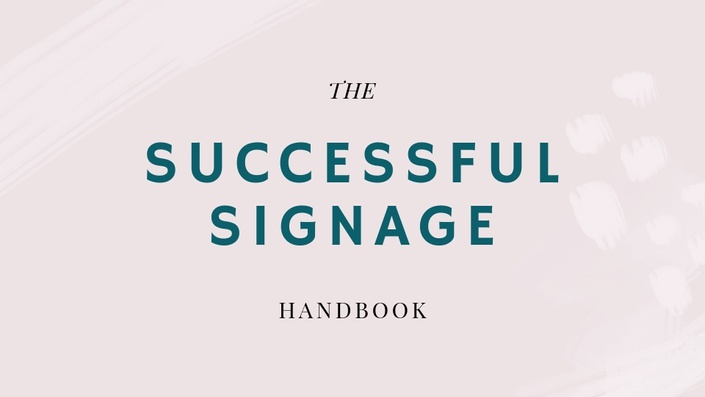 The Successful Signage Handbook
Everything you need to know to create sought-after calligraphy signage & become a staple in your local industry!
Enroll in Course
So - You've got the calligraphy skills (or at least you're working on them!) and are starting to think about taking things to the next level - off the page, and onto bigger things like mirrors, chalkboards, and more!

If you're like me when I was first starting my calligraphy signage business, there's a lot of googling happening ("What marker do I use for ___ (mirrors, glass, acrylic, etc!)?" "How do I write in a straight line if I can't use my grid sheets?!" "What happens if I make a mistake on a seating chart?!" Etc.). It's so exciting to think about actual people wanting to give you actual money to create something for them (!) but it can also be SO overwhelming when you're first starting out. With so many tutorials, blogs, and how-to articles out there - it's difficult to know where to even begin when it comes to taking your calligraphy off of paper and into uncharted territory.
Calligraphy wedding signage has exploded over the past couple of years, and those gorgeous chalkboard welcome signs and stunning mirror seating charts are all over Instagram and Pinterest. The demand is high, and you know that you could deliver, IF you could transfer your calligraphy skills to mirrors, acrylic, wood and more. But you have a lot of questions (I did too!).
Do these sound familiar?
What marker should I use to write on glass/mirror/chalkboard/etc?
How do people erase their guidelines on mirrors without erasing the writing too?
Why won't my chalk outlines come off of wood?
How do I make sure all of the guests' names fit on the seating chart?
What should I bring when I do calligraphy on-site?
This course answers all those questions and a LOT more
Time for some TMI: When I started my calligraphy business as a side hustle, I was working at a design job that was making me completely miserable. I literally cried on my way to work and on my way home almost every day. In my spare time, I was doing a LOT of experimenting with a variety of different styles, surfaces and projects and throwing my work out into the universe, hoping that something would stick. I got a few jobs mainly through friends in the beginning, and slowly started to build a network of event planners and other people in the event industry and more work started trickling in. I left my job after a while to pursue calligraphy & art full time, and pretty much threw myself into the wedding & event industry without a relative clue.
The successful business I have now is built on a fairly embarrassing amount of trial and error (mostly error). I wish I could go back in time and teach myself all that I know now right from the start!
But, that's not how life works, so I made this course instead! I'd like to think that I dealt with all of that confusion and overwhelm in the beginning, so that now I can help someone else skip over all that mystery and get to the really good stuff - creating work you love for people who value it!
This course is basically everything I wish I had known when I started making wedding & event signage - but had to learn hard way. I wanted to make it as easy as possible for other creatives to get the answers to their technical questions and have a resource for any job that might come their way!
Fun Fact: When you enroll in this course, you get Lifetime Access - which means that every time I update the course with a new technique or tutorial, you will have full access to it at no additional cost!
So, what exactly will you learn?

Everything you need to have in your Supply Inventory & On-Site Kit for wedding & event signage
The difference between Monoline, Calligraphy & Sans Serif Lettering & when to apply them
How to do "Faux Calligraphy" and why/when you should use it
How to set up seating charts & other large scale signage
All the practical knowledge you need for lettering on a variety of different surfaces: Mirrors, glass, acrylic, chalkboards, wood, etc!
A little something extra

If you need a little extra help or a creative pep talk, there is also an option to add a little virtual coaching sesh with me to the class (a one hour call & a personalized tutorial on whatever you need the most help with). If you opt for that, I would encourage that you note down any questions you may have while working your way through the course, so when we work together, we have specific issues to target!
Important Note: Students must have access to a device that can make video calls. Students must also be okay with the fact that there is a high chance I will be wearing pajamas and possibly drinking wine. You are welcome (/encouraged) to do the same.
Your Instructor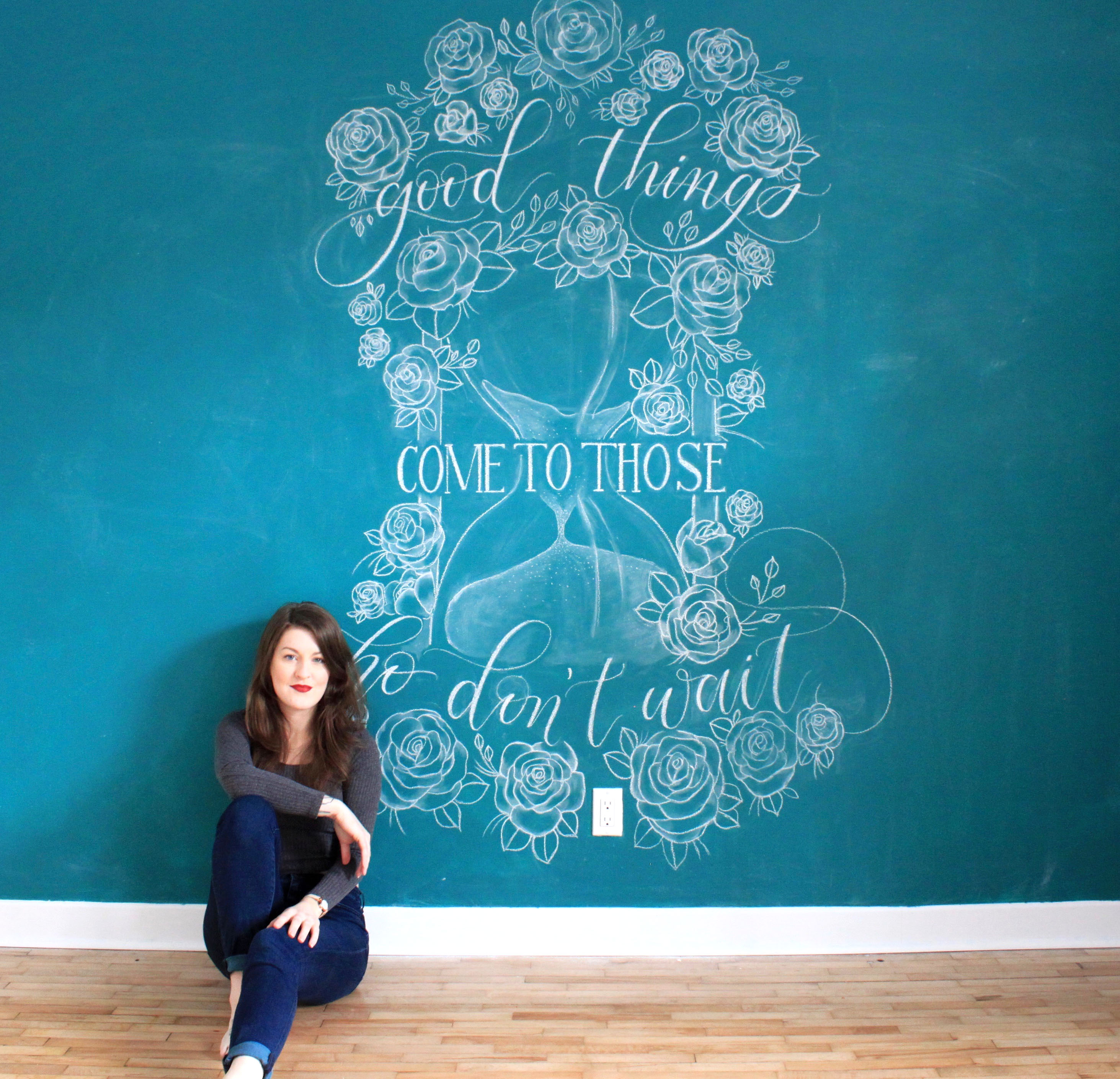 Hi Darling!
I'm Jodi - the Artist, Calligrapher, & Coffee Addict behind Someday Art Co! I run a Freelance Calligraphy Business based in Montreal, but I live just outside the city on a piece of land that used to be a vineyard (but much to my chagrin, is not anymore!). I've worked with clients like Dior & Chanel, as well as countless wedding clients and local businesses.
When I'm not lettering or drawing, I'm hanging out with my dog Teddy, listening to a true crime podcast or searching for the perfect full-bodied red (or at least, the one with the prettiest label). I love sharing my knowledge and business savvy with like-minded creative babes!
Course Curriculum
Part 1 | Successful Signage Supplies
Available in days
days after you enroll
Part 2 | Signage Skills - Calligraphy, Monoline, & Faux Calligraphy
Available in days
days after you enroll
Part 3 | Signage Skills - Going Beyond Paper
Available in days
days after you enroll
Frequently Asked Questions
When does the course start and finish?
The course starts as soon as your purchase! Part 1 is available immediately, with Parts 2 and 3 being dripped over the following 2 weeks, so you can pace yourself in the beginning and absorb all of the information. After Part 3 is sent out, all of the content will be available, forever! At that point, you decide when to work through it and when to revisit parts you need a refresher on. You will also have lifetime access - which means that every time I update the course with a new technique or tutorial, you will have full access to it at no additional cost!
How long do I have access to the course?
How does lifetime access sound? After enrolling, you have unlimited access to this course for as long as you like - across any and all devices you own.
What experience do I need in order to do this course?
Ideally, you should have some experience doing calligraphy already and be at the stage where you want to move from paper to other surfaces. If you haven't learned calligraphy yet but want to, I also have a beginner's workbook you can download back at the main page! :)
After getting so many questions about tools, supplies and signage, I am super excited to be compiling all this info into one place!
Making mistakes is human is an important part of life - and proof of that is the fact that this entire course is built on my own mistakes & missteps, and the important lessons I learned from them! I hope that by taking this course you will gain the confidence to take your lettering to the next level and go from Practice to Professional. You've got this babe!
Someday Art Co | Features & Notable Clients
Features
Vogue Italia | Global News | HuffPost Quebec | Junebug Weddings | DIY Network | Wedding Chicks | Mariage Quebec | Elegant Wedding | Magnolia Rouge | Ruffled

Notable Clients
Parfums Christian Dior | Chanel | Glenfiddich | L'Oréal | David's Tea | Pandora | Urban Outfitters | Lululemon | MFLEURS | Loft Nail Bar | David Yurman | Rustique Pie Kitchen | Guess | Marciano | Beauty Boutique by Shoppers Drug Mart | Urban Bonfire